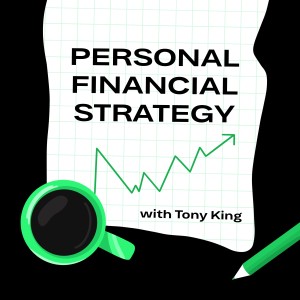 Wednesday Jan 26, 2022
"Dexter B. Jenkins on the importance of having a personal financial plan"
"Now is a great time for people to really take an inventory of what they want their life to look like, and then also begin to look at what avenues they can explore to help them to get there." Dexter Jenkins
Our guest today is Mr. Dexter B. Jenkins. Dexter is an author of a book called 'The Three Ships of Wealth Building. He is also the host of a podcast called Wealthy Conversations. Dexter is known for his personal approach to financial coaching, which he has labeled 'Easy to Implement Wealth Building Strategies, God's Way'. He is now the CEO of his own financial consulting firm, DBJ enterprises.
In today's episode, Dexter talks about why it is important to plan your finances regardless of your age. He also shades a bit of light into the principles discussed in his book.
Listen in!
The idea that people miss is how to plan the finances, and my goal is to help people to plan very simplistically, so that they can implement it.
Everything in finances is behavior based, and when you begin to change people's habits and behaviors and ways of thinking about money, they'll have a chance to do pretty well.
I think your late 20s to early 30s is really a key time for people to really wake up and start planning and knowing their finances
Having a plan early on for retirement both to transition and how it looks like for you is extremely important.
The principle we all know is that anything that stays at rest remains at rest, and anything in motion stays in motion.
Getting people to stay in motion in their later years and keeping their mind sharp is a very important part of what we do for our businesses.
When people don't have a purpose in retirement, it's very dangerous and having people see that they still can be very valuable and very productive is extremely important,
Most people don't think about what their biggest expense is but ignorance is the biggest tax.
I define Ignorance tax to be how much we pay, because of what we don't know.
We pay a high tax when we remain ignorant and so part of our job is to give people the information that they need, so that they can avoid paying the cost.
If I can have my finances working to their highest potential, I believe the outcome of that you become richer.
Being the best I can be in my finances is my target, and the outcome of that is I'll end up doing well financially.
The three ships a wealth building was birthed out of studying wealth over the last three to four decades.
The book was birthed out of partly things that I've read in other books, and also the books of Proverbs and Ecclesiastes.
The three ships of wealth building is stewardship, ownership and entrepreneurship.
Now is a great time for people to really take an inventory of what they want their life to look like, and then also begin to look at what avenues they can explore to help them to get there.
What people found out during a pandemic was that they can take control of their lives.
Comments (0)
To leave or reply to comments, please download free Podbean or